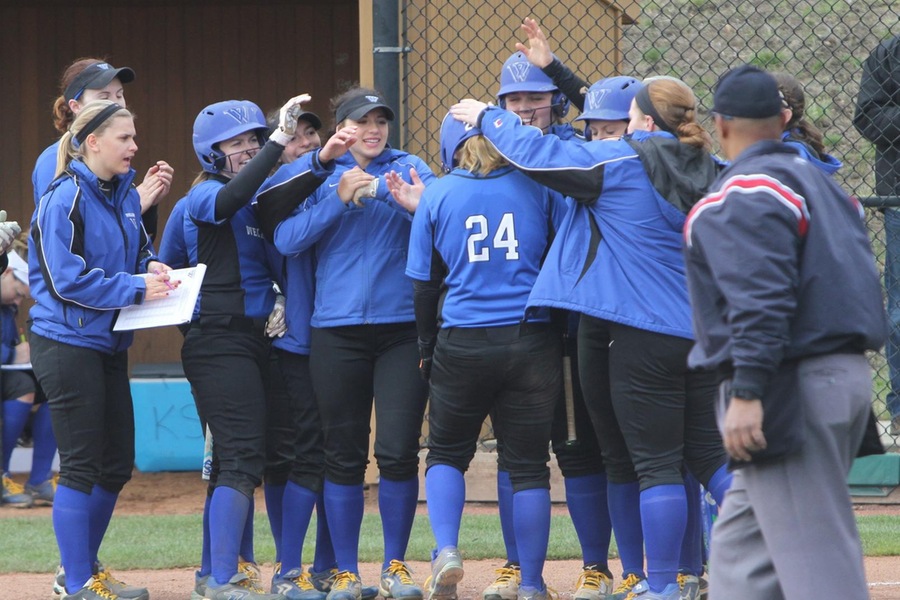 WELLESLEY, Mass. – Wellesley College softball extended the team's win streak to five games with a New England Women's & Men's Athletic Conference (NEWMAC) doubleheader sweep of Clark University on Sunday at the Wellesley Fields Complex. The Blue earned a 10-2 victory in five innings in game one and a 7-4 win in game two of a doubleheader that was rescheduled from April 1 and moved to Wellesley.
Wellesley is now 11-4 on the season and 6-2 in the NEWMAC after going 5-1 on a weekend that included three doubleheaders with conference foes. Clark drops to 5-11 overall and 0-6 in conference action.
Game One: Wellesley 10, Clark 2 (5 inn.)
Ashtyn Coleman (Scottsdale, Ariz.) went 2-for-4 with two runs scored, a double and a grand slam to lead Wellesley to a 10-2 victory in five innings in the opener.
Ashtyn Coleman, who now has home runs in three-straight games, broke the game open with her grand slam in the top of a fourth inning that saw the Blue score nine runs to take control of a scoreless game. First year Autumn Brown (Marshfield, Mass.) finished just behind Coleman with three RBIs, hitting her second home run of the year in the fifth and scoring a pair of runs. First year Kalei Oliver (Vista, Calif.) and junior Julia Warner (Kenmore, Wash.) also had RBIs in the opener.
Warner and Clark starter Taylor Erickson (Natick, Mass.) cruised into the fourth inning with matching scoreless frames, before Erickson got into trouble when Wellesley shortstop Kendra Coleman (Scottsdale, Ariz.) reach base on an error to start the fourth. Coleman followed with a double and senior Anna Pisac (Snohomish, Wash.) singled to load the bases, setting-up Brown for a two-RBI double to get the Blue on the board. Oliver lifted a sacrifice to score Pisac, before the Blue batted around, scoring two runs and reloading the bases for Ashtyn Coleman. The Wellesley catcher then empty the bases with one swing, hitting a grand slam to right to put Wellesley in command with a 9-0 lead.
Clark got a pair of runs in the bottom of the inning when Lauren Mackey (Dublin, N.H.) doubled and then came around on a Sami West (Gonic, N.H.) RBI double. West then touched home when Kaitlyn DeBlois (Turner, Maine) singled through the right side, making the score, 9-2.
However, the Blue got one of those back when Brown hit her second of the weekend over the scoreboard in left to make the score 10-2. Warner closed out the win with a 1-2-3 bottom of the fifth, improving to 4-1 with a four-hit, six strikeout performance.
Game Two: Wellesley 7, Clark 4
Junior Amanda Manning went 3-for-4 with a double, triple and two runs scored to lead the Blue to a 7-4 victory in game two and a sweep of Clark.
Manning also scored a pair of runs for Wellesley, who got all 10 of their hits in the game from the top-five batters in the order. Kendra Coleman had a game-high three hits, going 3-for-3 with a walk and two RBIs. Ashtyn Coleman had one hit and one RBI and Pisac added two hits an two RBIs in the nightcap. In the circle, sophomore Sydney Hopper (Newcastle, Wash.) went 4.4 innings, giving up six hits, four runs, three earned and striking out three to improve to 3-0. Madeline Bianchi (Lakeville, Minn.) went 2.2 innings in relief, striking out three and only yielding one hit.
DeBlois added another double for the Cougars in game two, while Mackey had two-RBIs and finished 2-for-3 with a walk at the dish. Erickson also drove in one of the Clark runs with a fielder's choice RBI as part of the Cougars' four-run bottom of the fifth inning. Junior Brenna Foley (Charlton, Mass.) pitched six innings in relief and was charged with four runs and the loss (1-4), after West failed to get out of the second inning after giving up her third run of the game.
Brown staked the Blue to an early advantage in game two, dropping an RBI single into left to score Pisac in the top of the first. Oliver was hit by a pitch with the bases loaded later in the inning to make the score 2-0. The Blue went up 3-0 in the top fo the second, thanks to an Ashtyn Coleman RBI ground out, before jumping to a 5-0 lead in the top of the fourth when Kendra Coleman and Pisac each picked-up RBI singles.
Clark got all four of the team's runs in the bottom of the fifth inning, with two coming on Mackey's two-RBI single to center after the Cougars loaded the bases on two hits and an error with one out. With Wellesley leading 5-4 after the fifth, the Blue responded with two runs in the sixth. Manning opened the frame with a triple, making her way home when the next batter, Kendra Coleman doubled to right. Coleman then scored on an RBI double from Pisac two batters later. Bianchi allowed only one runner to reach over the final two innings to close out the 7-4 Wellesley win.
Wellesley will host Emerson in NEWMAC play on Wednesday, April 12, in a doubleheader that rescheduled from March 22 (snow) and April 4 (rain). Game one will begin at 3:00 PM. Clark will play at No. 19 MIT in league play on Tuesday, April 11, at 3:00 PM.