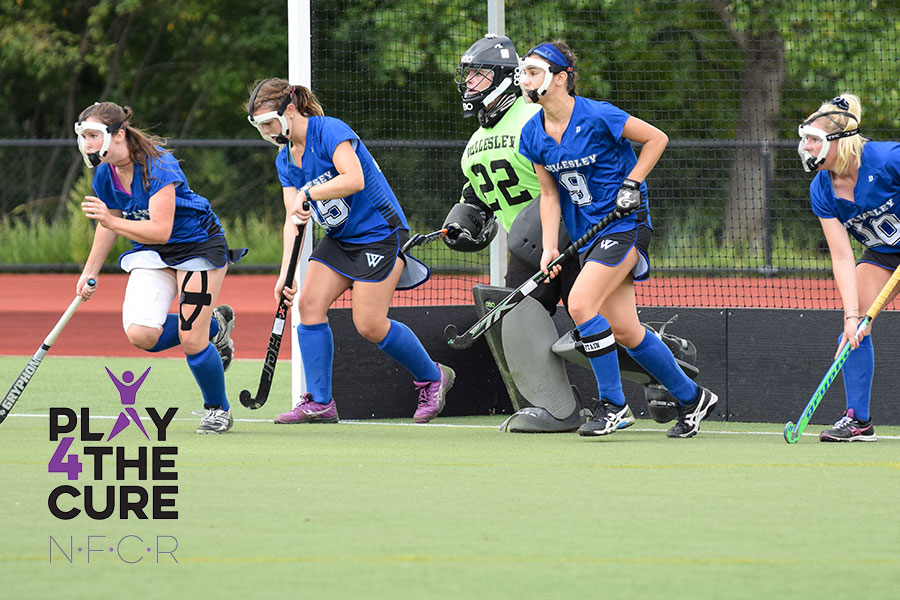 WELLESLEY, Mass. -- Rivals on the field, the Wellesley College and Mount Holyoke field hockey team will join together, along with field hockey teams from across the New England Women's & Men's Athletic Conference (NEWMAC) on Saturday, October 7, at 12:00 PM in the conference's annual Play 4 The Cure Day.
Organized by the conference's field hockey coaches, the annual event is a special day to spread awareness and honor those who have been affected by cancer. Each team will wear pink t-shirts for warmups and the walk out and fans are encouraged to donate on behalf of their team by visiting the NEWMAC fundraising page on crowdrise.com. Donating through the website is simple, fast, and secure and is the most efficient way to support the NEWMAC's fundraising efforts.
Play4TheCure is a fundraising platform for the National Foundation for Cancer Research which provides funding worldwide to the best scientists to enable cutting edge research that other large cancer organizations can't and won't fund. Play4TheCure inspires young athletes and their teams to leverage their passion for sports to "Play4" loved ones affected by cancer and encourages them to actively participate in working to fund cancer research to make a difference.
#Play4TheCure