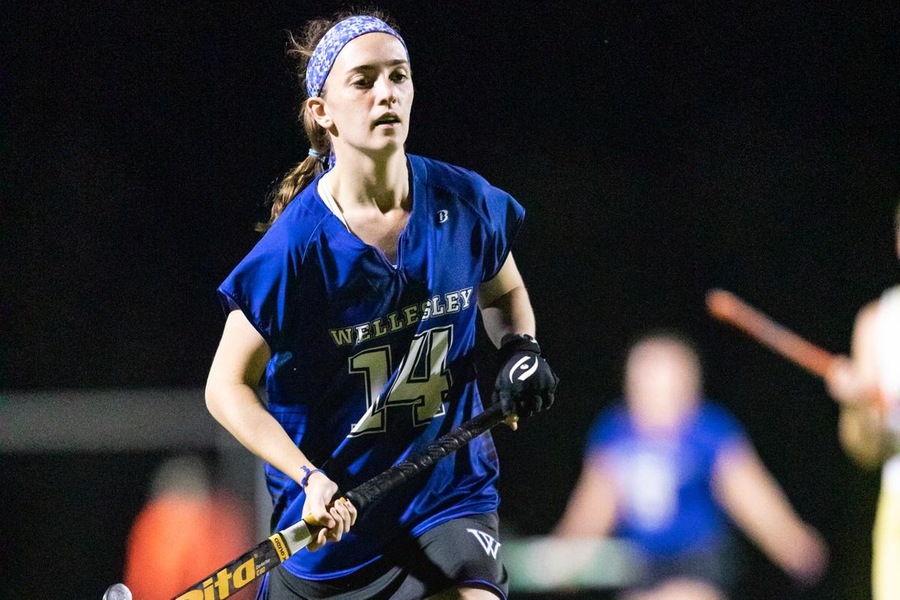 WELLESLEY, Mass. -- WPI defeated Wellesley College field hockey, 5-2, in the New England Women's and Men's Athletic Conference (NEWMAC) opener for both teams on Saturday afternoon at Butler Stadium.
Junior Maggie King (Philadelphia, Pa.) and first year Amy Kate Williams (Greenville, S.C.) each scored and junior Carson Dennis (Grosse Pointe Farms, Mich.) added a pair of assists for the Blue (4-3 overall, 0-1 NEWMAC). WPI is now 7-0 (1-0 NEWMAC) following today's game.
Junior Abby O'Sullivan (Walpole, Mass.) led the Engineers with two goals and two assists. Seniors Bridget Sullivan (Wilmington, Mass.) and Carly Cidado (Easton, Mass.) scored one goal a piece and junior Katilyn Hess (Milford, N.H.) also knocked in a goal for the Engineers.
WPI took the lead just 7:32 into play when O'Sullivan redirected a saved shot to the stick of Sullivan who tapped it into the back of the cage. The Blue answered back minutes later with a goal from King after a redirection from Dennis. The Blue kept the tie at 1-1 into the second period before WPI pulled ahead 2-1 when Hess buried a rocket in the back of the cage at 19:33.
With WPI leading 2-1 after the break, O'Sullivan scored the first of three Engineer goals in the third period. The first goal came off the stick of O'Sullivan at 30:22 when she finished on a direct pass from sophomore Angie Ferro (Northboro, Mass.). Cidado quickly added another goal at 33:51, this time with O'Sullivan adding an assist to bring the Engineers lead to 4-1.
Now trailing by three, Williams attempted to rally the Blue with the first of her career, redirecting a hard pass from Dennis through the legs of WPI sophomore goalkeeper Ali Gannon (Fremont, N.H.) at 38:55 to cut the Engineers' lead to 4-2. However, O'Sullivan had other plans, as she knocked in her second goal of the game on a penalty corner chance at the end of the third. Junior Lindsey Giorgi (Barre, Mass.) set-up the penalty corner goal at 41:09.
WPI had a 12-9 edge in shots in the contest but the Blue earned 12 penalty corner chances to just three for the visitors. Gannon made five saves to earn the win (7-0-0) and Blue junior goalkeeper Janelle Sullivan (Philadelphia, Pa.) turned back four shots in the setback (4-3-0).
Both teams return to play on Tuesday, September 24, as Wellesley hosts Bowdoin College at 5:00 pm and WPI hosts Lasell University at 4:30 pm.