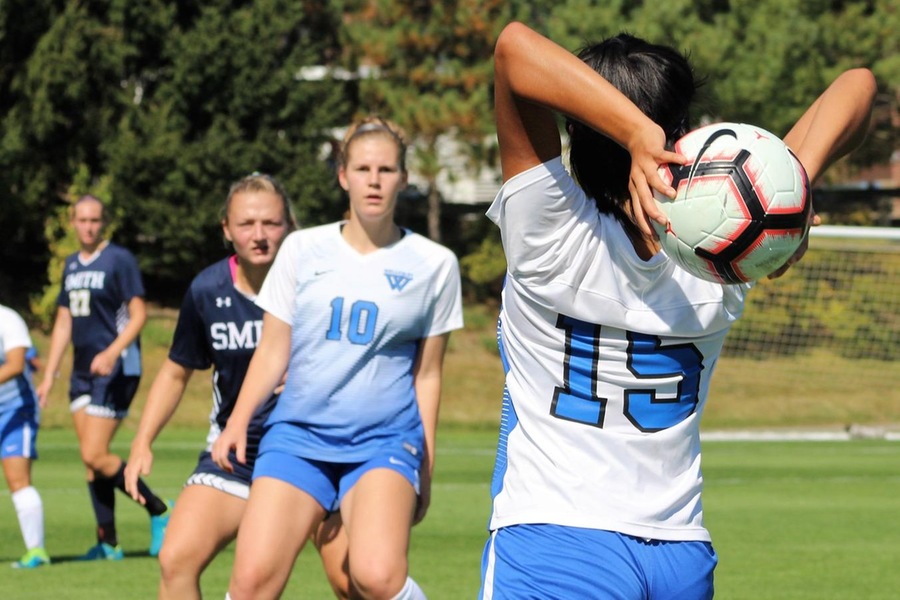 WALTHAM, Mass. -- Brandeis University pushed past Wellesley College soccer, 5-0, in a non-conference matchup on Tuesday evening at Gordon Field.
Five different players found the net on the night for the Judges, as Brandeis improved to 6-2-0 overall. The Blue are now 3-5-0 on the season.
Sophomore Makenna Hunt (Tyngsborough, Mass.) netted the first Brandeis goal on a feed from first year Caroline Swan (Pittsburgh, Pa.) at 34:10 of the first. The Judges took a 1-0 lead into the half but broke the game open early in the second half with a pair of goals 3:08 apart.
Sophomore Juliette Carreiro (Upton, Mass.) knocked in the second goal on an assist by senior Katie Hayes (Eau Claire, Wisc.) at 56:13. Hayes came back around at 59:05, scoring the third goal on an assist by Hunt. The Judges added two more before the end of the night. First year Jessica Herman (Plantation, Fla.) put up the fourth goal on an assist from Carreiro at 69:07, before senior Emma Spector (Needham, Mass) fired in the fifth and final goal with just over 15 minutes left in regulation.
Wellesley senior goal keeper Olivia Reckley (Grosse Ile, Mich.) had six saves on 11 shots. Goalkeepers Victoria Richardson (Tolland, Conn.) and Rebecca Gold (Pleasant Valley, N.Y.) combined to make two stops in the Brandeis goal. The Judges finished the game with a 19-6 edge in shots and had seven corner kicks to the Blue's one.
Both teams return to their home fields on Saturday, September 28 at 1:00 PM. Wellesley will host Mount Holyoke College for Earn the W Day and Brandeis hosts Emmanuel College.